Foresthill Weather.com
Welcome
Current Conditions
Temperature
87.4°F
Temp Rate:
-0.2°F/hr
24hrs Ago:
90.9°F
Todays High:

91.3°F

2:37pm


Todays Low:

68.3°F

6:47am
Current Conditions
Wind
Speed
Gusting to
Avg Speed:
Peak Gust:
Humidity:
ET:
Dew Point:
Barometer:
Baro Trend:
1.0 mph
19 mph
21%
0.171 in
42.7°F
29.816 inHg
Steady
Current Conditions
Rain
Rain Today:
Rain Rate (/hr):
Rain last hour:
Rain Yesterday:
This Month:
Season Total:
0.00 in
0.000 in
0.00 in
0.00 in
0.00 in
0.00 in
Current Conditions
Chandler Burning Index
Local Fire Info

Foresthill Fire Safe Council
Yuba Net.com
Outlook
Almanac
75%
Illuminated
9 days in cycle
| | |
| --- | --- |
| Moonrise: | 4:05pm |
| Moonset: | 1:20am |
| Sunrise: | 6:22am |
| Sunset: | 7:52pm |
| Dawn: | 5:53am |
| Dusk: | 8:21pm |
| Day length: | 14:28hrs |
| Todays Sun: | 9.1hrs |
Current UV: 5.2
Todays Hi UV:
Current Solar: 708 W/m2
2min 17s less daylight tomorrow
DondelingerPhotography
Severe Wx Summary!
Small Craft Advisory
Fire Weather Watch
---
Mon, Aug 20, 2018 - 3:14pm
Info Links
Hawaii Volcano National Park

HAWAIIAN VOLCANO OBSERVATORY DAILY UPDATE
U.S. Geological Survey
Sunday, August 19, 2018, 12:39 PM HST (Sunday, August 19, 2018, 22:39 UTC)
KILAUEA VOLCANO (VNUM #332010)
19°25'16" N 155°17'13" W, Summit Elevation 4091 ft (1247 m)
Current Volcano Alert Level: WATCH
Current Aviation Color Code: ORANGE
Kīlauea summit and lower East Rift Zone

The lull in activity at Kīlauea Volcano continues. At the summit, seismicity and deformation are negligible. On the lower East Rift Zone, the only incandescence is at the coast near Ahalanui where a few ocean entries are oozing lava. Sulfur dioxide emission rates at both the summit and LERZ are drastically reduced; the combined rate is lower than at any time since late 2007.

HVO Operations

The Hawaiian Volcano Observatory (HVO) will continue to closely monitor Kīlauea's seismicity, deformation, and gas emissions for any sign of reactivation, and maintain visual surveillance of the summit and LERZ.

The thunderstorms and heavy rains that drenched windward parts of the Big Island yesterday afternoon (Saturday, August 18) compromised several seismic stations and GPS receivers that are used to monitor earthquakes and ground deformation on Kīlauea and Mauna Loa volcanoes. HVO's monitoring network has many built-in redundancies, so real-time data acquisition was not compromised.

HVO will continue to issue daily updates and additional messages as needed. The next status report will be issued tomorrow morning unless significant changes occur.





Source: Cascade Range Current Update
---

Kilauea Latest Entrie
August 18, 2018
---
Kīlauea summit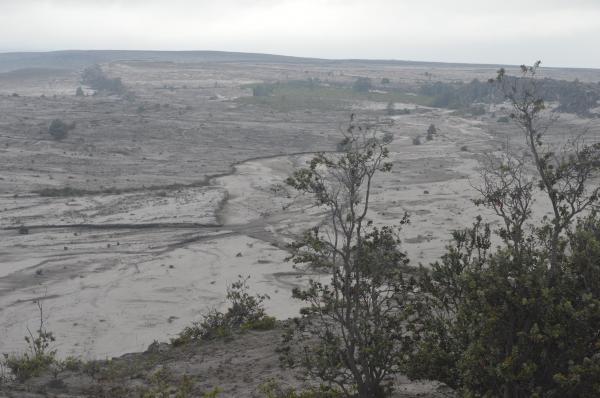 At Kīlauea's summit today, a clear morning gave way to heavy rain, which re-mobilized the
ash
cover between HVO and the Southwest Rift Zone, concentrating the ash in washes.
---
Source:
Kilauea Volcano Observatory
Information courtesy of ...
U.S. Geological Survey Hawaiian Volcano Observatory (HVO).
Site Affiliations
CWOP (N6ZQK)
NWS AT046
---
powered by Cumulus v1.9.3 (1059)
Ambient Weather VWS v14.00
Top
Contact
Website Map
Copyright © 2007 - 2018 Foresthillweather.com
Never base important decisions on this or any weather information obtained from the Internet